Selecting the Right Size Pittsburgh Storage Unit
City Center Self Storage has a variety of Pittsburgh storage unit sizes to meet your needs, from small sized units that are perfect for students and small projects, up to and including large units that can accommodate the contents of a home or apartment.  We even provide fully secured bays with thousands of square feet for bulk storage and small warehousing needs.
How to Select the Right Size Storage Unit
Here are some easy guidelines to help you size your locker.  Remember, square footage is just the floor area.  Each locker is 8 feet high, so you have plenty of room to safely stack boxes, crates and easy to manage items.  All of our units are climate controlled and we have outstanding storage security, so you can sleep well knowing items you've stored with us are protected.
5 X 5 SELF STORAGE UNIT- 25 SQUARE FEET

Think of it as your personal walk-in closet.  This locker is perfect for overflow storage, seasonal items and decorations, winter clothing and miscellaneous household items that you just can bear to part with.  It's also a great college student option.
5 X 10 SELF STORAGE UNIT – 50 SQUARE FEET

This large walk-in closet will safely store larger furniture, such as a couch, dresser, and a mattress set.  It's ideal for bikes and larger toys, seasonal equipment and lawn furniture. And if you have a college roommate, double up in this locker and save some money.
10 X 10 SELF STORAGE UNIT – 100 SQUARE FEET

This storage space is the size of a standard one-car garage. It holds the entire contents of a two-bedroom apartment. It's also a great business locker for secure, offsite self storage Pittsburgh record storage. Less than a mile from the Golden Triangle, you can drop off or pick up your records over lunch hour.
10 X 20 SELF STORAGE UNIT – 200 SQUARE FEET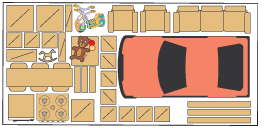 Double the size of a one car garage, this storage locker accommodates a large three bedroom home or apartment and more. This locker will handle all of the appliances as well.  Yes, even the kitchen sink!  Accountants and attorneys love this locker for organizing tax records and case files.
By the way, you can't really store a car with us.  But it does a great job of showing just how large this locker actually is!
Half and Full Bay Rentals
Still unsure of your storage space needs? Have a special need, like 5,000 sq feet for six months?  Stop by any time and meet with our on site manager.  They can walk you through all of the options and let you try one on for size.  We have more storage options than anyone in the City of Pittsburgh!
Ready to rent? Save time by filling out our application form online. We'll have a completed contract ready to sign when you arrive!